01/02/2023
Quality is amazing, fits well, service and care was excellent. Would highly recommend
12/12/2022
I will say none. Costumers service is really helpful and I haven't have any issues at all especially making my jersey and It came to my house just right
12/02/2022
Again, I was very satisfied with the ordering process and the way in which owayo supported us in creating the desired kits for our school team. I have already recommended them to other schools!
11/21/2022
Excellent products and timing was excellent. Very good service.
10/31/2022
Lovely customer service, very personable approach, production time was very fast and product is high quality. Would definitely recommend !
10/21/2022
Great service, jerseys for our basketball team came on time and were exactly as they were designed, high quality. Will continue our business with this company, good work.
10/10/2022
Great website. Easy to use and very timely.
09/09/2022
Great communication, products arrived in the stated timeframe and are of high quality and match the custom design.
09/01/2022
Great jersey, perfect delivery time. Only suggestion is maybe a photo of the jerseys before they ship, other than that great service.
Interested in more feedback and evaluations?!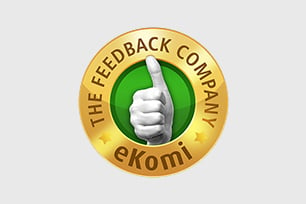 About eKomi
eKomi's goal is to track authentic customer reviews of various products. They offer a unique platform where consumers speak to one another based on personal experiences, and thus helping consumers identify reputable online businesses. We have been reviewed by eKomi since 2011 and have no influence on the ratings and feedback provided by our customers. Our customer feedback speaks for itself.