02/15/2023
Le logiciel de création, très simple d utilisation, donne un vision clair du projet. Le délai de création est un peu, pour une petite commande. Mais je comprends parfaitement. La relation client est excellente. Nos échanges de mail sont pro et l on ressent bien la notion de service.
12/30/2022
tout était parfait … nous sommes très satisfait de votre société.
01/30/2023
Top Qualität, schnelle Lieferung
01/20/2023
Idee ist großartig! Design gefiel mir. Professionellen und schnelle bearbeitung. Einziger Verbesserungswunsch wäre die Farbe. Das Schwarz meiner Hose ist etwas heller als die üblichen schwarzen Shirts 😏
01/05/2023
*** war extrem hilfreich, freundlich und profesionell und so konnte ich meine knappe deadline einhalten mit der Porduktion
01/02/2023
Tolle Yogahose, bin mega zufrieden!!! Auch der Kundenservice war klasse.
12/29/2022
Sehr nette Kommunikation. Das Team ist sehr aufmerksam und hilfsbereit.
11/16/2022
Wie schon erwähnt, die Farbe die in der Designdisplay sind ganz anders als die die man auf der Designcheck bekommt. Ich würde mich freuen das die Bilder die eingetragen sind behalten deren farblichkeit das in der Designdisplay gezeigt wird, die Designcheckfarbe sind zu grell. Danke
owayo response:
Lieber Kunde, Farben werden an verschiedenen Bildschirmen unterschiedlich angezeigt. Das liegt an den Einstellungen des jeweiligen Gerätes. Wir bemühen uns, die Farben möglichst wahrheitsgetreu abzubilden, können aber nicht garantieren, dass die Farbdarstellung auf anderen Bildschirmen identisch ist. Vielen Dank für Ihr Verständnis.
10/15/2022
Ich liebe meine neuen Yogahosen! Der Stoff ist super weich und angenehm auf der Haut! Ich fühle mich darin total beweglich bei meiner Bewegungspraxis. Bei den Designs konnte ich mich kaum entscheiden, denn es sind so viele tolle dabei! Der Stoff und die Verarbeitung wirken sehr hochwertig. Happy me!
Interested in more feedback and evaluations?!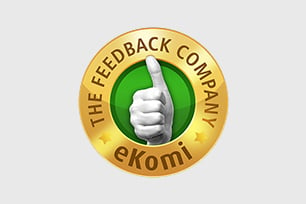 About eKomi
eKomi's goal is to track authentic customer reviews of various products. They offer a unique platform where consumers speak to one another based on personal experiences, and thus helping consumers identify reputable online businesses. We have been reviewed by eKomi since 2011 and have no influence on the ratings and feedback provided by our customers. Our customer feedback speaks for itself.