Details

Colors

Prices and Lead Times

Sizes
BAS5 Pro Sports Socks
The BAS5 Pro sport socks are reinforced in key areas to provide additional support while running and jumping. They come in 2 different lengths. In Stock items can be ordered in black or white and will feature an owayo logo - Custom socks (MOQ – 50 pairs) can be outfitted with a logo or a team name.
1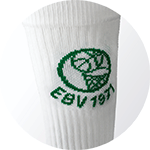 Option 1:Custom Logo Socks
You can custom order socks with your Team Name or logo - the minimum order is 50 pairs of a single size; 2 or more sizes with at least 30 pairs is also possible
2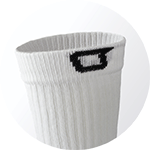 Option 2: In Stock owayo Socks
Our In Stock owayo socks have no MOQ and feature an owayo logo
3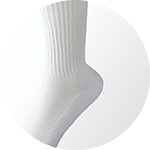 Anatomic Fit
Anatomic fit ensuring a snug and comfortable feel and reduced movement
4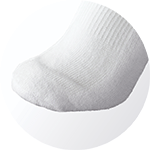 Supported Impact Zones
The socks feature reinforced support in critical impact zones, maximizing comfort
5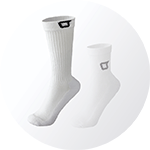 Length 1: Mid-Cut
The Mid-Cut socks cover approx. 1/3 of your calf
6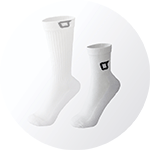 Length 2: Low-Cut
The low cut socks end around the ankle
7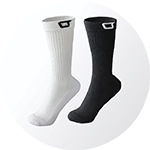 Available in 2 Colors
Our Basketball socks come in black and white.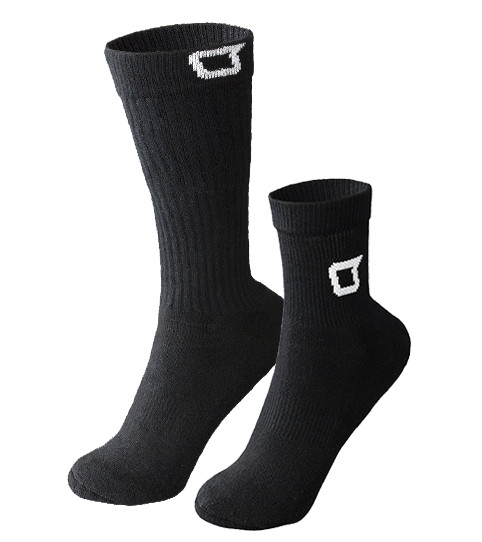 Side view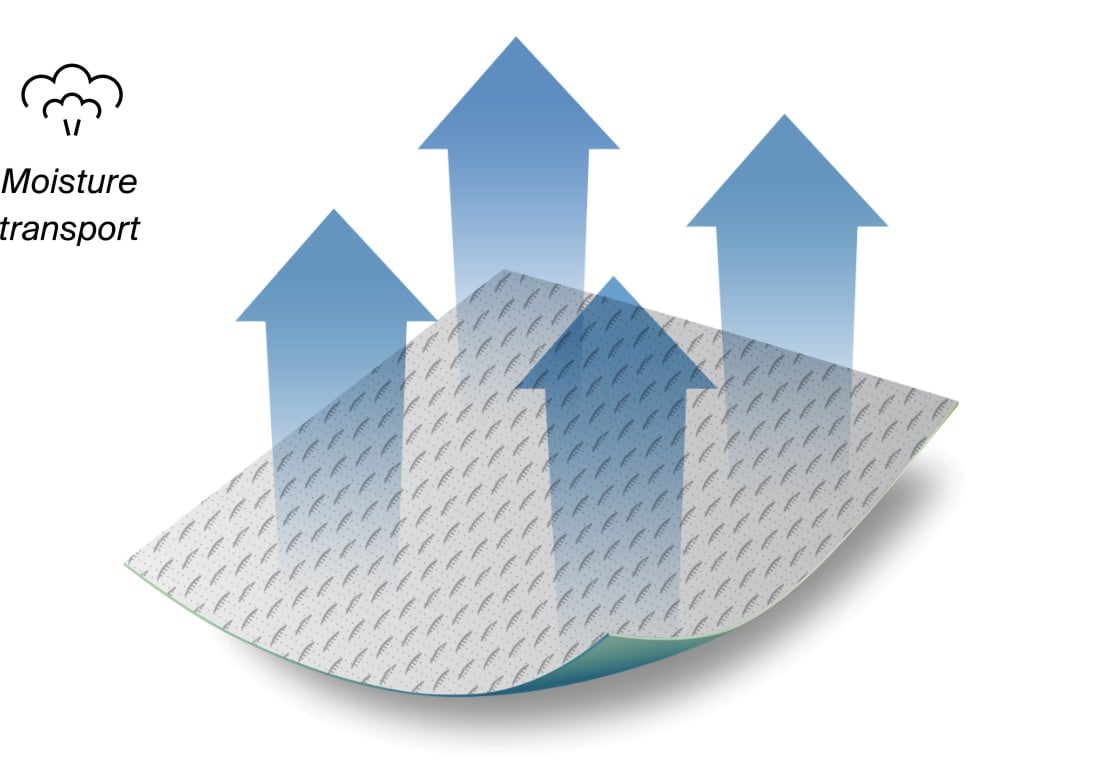 Persperation and moisture is wicked away from the body and evaporates away from the body keeping you cool and dry allowing you to maximize your performance.

Moisture transport

Colors and Combinations
owayo handball socks are available in solid black or white.
Color and Fabric Samples
Please be aware that the color saturation and appearance on your monitor/screen is not always true to what the color looks like when printed. The perception of color is dependent on the device settings and thus may appear different to the final results, which is why we offer and also recommend to send your color and fabric samples for FREE. This ensures that there are only pleasant surprises when the final products arrive.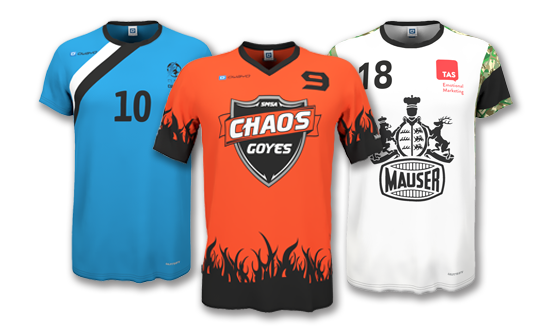 Corporate Identity Colors
We can upload your CI colors into your 3D designer profile to ensure you can complete your design. Simply click on the button below to request your special colors.
Special Colors
Pantone, HKS, RAL
Prices and Lead Times
The price of your individual sportswear depends on the quantity ordered.
Socks
Quantity
Regular Production Time
Unit Price
Express Production Times
Unit Price
1 pair
$8.50
Upon Request
20 pairs
$8.00
Upon Request
50 pairs
$7.75
Upon Request
100 pairs
$7.50
Upon Request
Features
Default Features: . For this product, you can pick between various options. The following surcharges and discounts apply per piece.
| | |
| --- | --- |
| 2 colored | + $2.50 |
| | + $2.50 |
United States Shipping
Shipping Options
Freight Times
Business days
Cost
Per box
Economy up to 4.5lbs
3 - 5
$10.00
Economy more than 4.5lbs
3 - 5
$15.00
Priority
1 - 2
depending on weight
Canada Shipping
Shipping Options
Freight Times
Business days
Cost
Per box
Economy up to 2 Kg
3 - 5
$15.00
Economy
3 - 5
$25.00
Priority
2
depending on weight
European Union Shipping
Shipping Options
Freight Times
Business days
Cost
Per box
Economy up to 2 Kg
1 - 4
€ 10,00
Economy
1 - 4
€ 15,00
Priority
1 - 2
depending on weight
Global Shipping
Shipping Options
Freight Times
Business days
Cost
Per box
Economy
3 - 7
depending on weight
Priority
1 - 4
depending on weight
Current delivery time
Regular Production (3 weeks) Express Production (at least 1 week)
Click below to find out more about our current lead time and our express production options

Click Here For More Information
Price Estimate
In order to receive a personalized price estimate with the exact products, features and quantity you'd like.

Price Estimate
Price lists for other countries
Reorders Are Easy
We keep your designs on file indefinitely, so you can place reorders at any time. Reorders of small quantities are less expensive than initial orders.
Cumulation System
Different product features, for example solid-colored, 2 colored can be cumulated, when ordering at least 5 of each variation. When ordering 15 of one variation and 5 from another variation of the same product, you will receive the unit price for 20 items. For the unit prices to cumulate, you must order at least 5 of each variation.

All texts and logos included in base price
Our prices include free choice of design, color, texts and logos – with no hidden costs. This clear cut pricing allows you to easily calculate the cost, despite having multiple inscriptions.
No minimum order quantity
owayo also manufactures single orders, complete with your logos, designs and colors. Small orders do have high fixed costs, yet are still possible for just one item.
Express Production
Standard production is approximately 3 weeks. A faster turnaround may also be available for an additional surcharge. Please ask to find out about our current express production capacity.
Payment Methods
When placing an order, we only accept full payment in advance either via Credit Card, check or Paypal.
Club and School Rewards Program
The Club and School Rewards Program allows registered clubs discounts of up to 20% - without any obligations. Read more about the Club and School Rewards Program.
Finding the Right Size
We strongly recommend you order samples before ordering to find the size that best fits you. If you do not have enough time to do so, you can use our size chart to find your size.

Handball - Socks
| owayo size | 1 | 2 | 3 | 4 | 5 |
| --- | --- | --- | --- | --- | --- |
| Size of shoe (US) | 4-6 | 6.5-8.5 | 9-9.5 | 10-11.5 | 12+ |
| Size of shoe (Europe) | 36-38 | 39-41 | 42-44 | 45-47 | 48+ |
Find your owayo size by comparing your measurements to our size chart. This chart also includes international standard letter sizes for reference.
Between two different sizes? If you like a looser fit, choose the larger size. Do you prefer your athletic wear to fit a bit tighter? Then pick the smaller size.