Overall great quality. The sleeves could be a little baggier though. Will be ordering again.
10/21/2019

Ist custom so its not cheap to quality ratio Its good for price for custom in good quality
10/04/2019

Support I received was brilliant, and it arrived very quickly!
09/30/2019

Result was better than expected
09/26/2019

Service was excellent and Ian was more than helpful. However, Fed EX delivery was very bad. I had a call from them on Thursday saying it would be delivered, then I called them on Friday and then again on Monday, before it eventually arrived on Tuesday.
09/23/2019

owayo response:
We're terribly sorry to hear about the inconvenieces caused by FedEx. We are looking into why this happened to see if improvements with our carrier can be improved.
Great, great stuff - the fact that you have managed to deliver the product in time meant a lot to us. There's a very happy 60 year old cyclist with a bespoke jersey now roaming the alps. We are very, very happy about this. Thanks!
09/18/2019

Simple and easy to deal with
09/09/2019

Great product, high quality material for a gift and it looks fit and professional!
09/06/2019

If there was an easier way to order one-off jerseys for new players, that would be fantastic and save a lot of headaches when it comes time to turn the roster over.
08/08/2019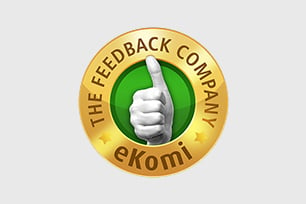 About eKomi
eKomi's goal is to track authentic customer reviews of various products. They offer a unique platform where consumers speak to one another based on personal experiences, and thus helping consumers identify reputable online businesses. We have been reviewed by eKomi since 2011 and have no influence on the ratings and feedback provided by our customers. Our customer feedback speaks for itself.