The right clothes for your next marathon
The right clothes, shoes and equipment for every weather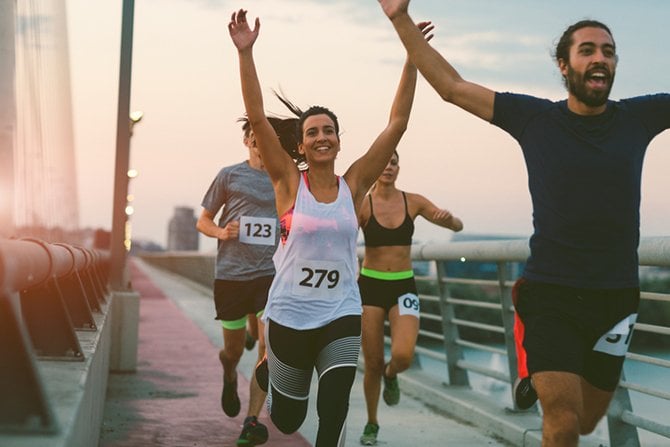 A marathon is not only about stamina and endurance. What you wear can also be a decisive factor. Running blogger and author Andreas Safft explains what you should wear when running a marathon and what equipment you absolutely need.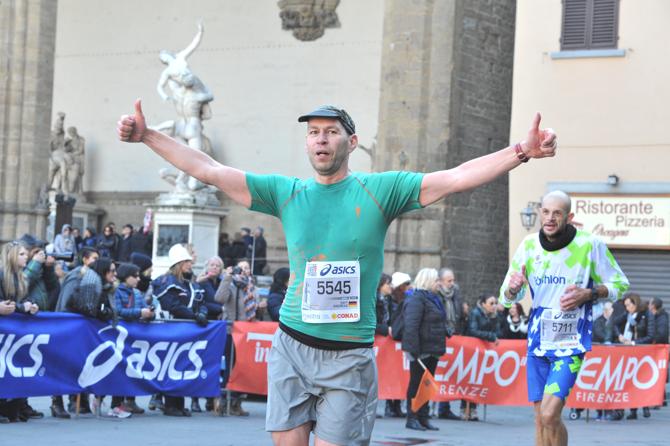 Every marathon is different. Andreas Safft knows that. On his running blog (in German) with the self-ironic title "Not another running blog!" he writes under the pseudonym "Saffti" (German for "the juice") about his competitions, preparation and everything else between. In his book "Häuptling Schlappschritt: Vom Jogger zum Läufer und zurück", published in 2016, the sports journalist tells how he went from not liking running all that much to running full marathons and gives courage to all those who want to do the same.
What clothes do I need for a marathon?
Andreas Safft is currently preparing for the Marathon in Valencia, which takes place on the 19th of November. Nevertheless, he took the time to give us some tips on the right running clothes.
The fit: sweats or leggings?
Just a few years ago, most people went running in sweats, but today compression tops and bottoms are the norm. Whether or not compression clothing improves performance is still up for debate. However, Andreas Safft thinks you should run in what makes you comfortable: "Leggings may prevent chafing, but some also feel too confined in them."
Marathon clothing back then
By the way, Cuban marathon runner Andarín Carvajal wore this at the 1904 Summer Olympics in St. Louis, Missouri, USA.
Moisture-wicking is a must
According to the running expert, the question of whether to wear sweats or compression is secondary to having reliable, comfortable moisture-wicking spotswear, which have an inate cooling effect, especially on tops. That's why it's worth spending a little more money, as "cheap shirts quickly absorb sweat, become heavy and feel uncomfortable." owayo offers suitable high-quality functional running wear made of breathable (Run-Tex) fabric for any weather.
Newer isn't alway better
"Saffti" advises against wearing brand-new gear to a marathon. This is definitely true for running shoes: "Run at least once or twice before the marathon, perhaps also a test race over a longer distance." This will prevent unpleasant surprises during the race.
Keep it light
In general, don't carry keys or phones with you during the marathon. "However, salt tablets or gels, for example, are absolutely essential; put those in a flexible and light running belt. Many pants and shorts have a zip pocket for keys or change - which is very practical for training."
Protect yourself from injury and chafing
- Don't be shy. Use Vaseline, sports ointment or talcum where needed
- Use bandages or plasters on open wounds
- Avoid chafing with special sports bandages
- Generally, functional clothing prevents chafing better than cotton
- Women should wear a sports bra for additional support
- Tape your nipples if they chafe easily
Interesting costums are a staple of marathons. Andreas Safft has seen it all: "In my 1st marathon on Mallorca I saw a runner who ran in cowboy boots because of a bet. He was quick at the start. At km 30 I overtook him and didn't see him at the finish. He looked to be in pain. I'd say he lost the bet."
In a gorilla costume in London
The fact that marathon runners disguise themselves is nothing out of the ordinary. Almost every big marathon has funny and creative outfits. At the London Marathon 2017 Tom Harrison crawled through the city in a gorilla costume. It took him almost a whole week to do the 42 kilometres and of course he finished last.
But the curious appearance had a good reason. Harrison wanted to draw attention to the fate of the threatened monkey species with this action and was successful. He collected 29,000 euros in donations for the animal welfare organization, The Gorilla Organization.
Superheroes and Bay to Breakers Costumes
Paul Martelletti is known for his costumes. The athlete holds the marathon record for the best time in a superhero costume. Martelletti also set the Spiderman outfit record for the London Marathon 2015.
The Bay to Breakers race in San Francisco also takes the sport aspect less seriously. In California's sun, it's not the best time that counts, but the craziest outfit. See for yourself:
Picture Gallery "Crazy Marathon Outfits"
Try a banana outfit. The hat protects against the sun.

Does this gentleman have a speed advantage because of the propeller on his cap? In any case, his glasses offer the ultimate view. Those who find marathons a bit boring may also practice their juggling.

At the Bay-to-Breakers, not only athletes, but also Stormtroopers run.

.. and green humanoids??

Unicorns of different species meet up to have fun.

Can't forget about Trump and Putin.
When choosing what to wear for a marathon, it is important to adapt to the weather. "The juice" knows what he is talking about - he's run marathons at 80 degrees and at temperatures just above freezing. What you wear as a runner "depends entirely on your personal perception of cold. But newcomers tend to dress much too warm. If you get a little cold at the start, then it's just right."
The coldest and hottest marathon in the world
The coldest marathon in the world is the Yukon Arctic Ultra. It takes place in the Canadian wilderness and combines running and winter sports. In 2016 the temperatures were down to minus 35 degrees! Around 70 participants took up the frosty challenge over a distance of 26, 100 or 300 miles.
At Badwater Ultramarathon the heat prevails. The 135-mile distance leads through Death Valley in California, notorious for its hostile temperatures. Because this is probably not hot enough for the organizers yet, it takes place annually in July! Temperatures of over 115 degrees are regularly measured at the event.
Rain
Running jackets are only necessary in strong winds or rain. Make sure you dress in layers so you can take off your jacket if needed. "Saffti" warms up in his jacket and takes it off just before the race begins. But he always has old jackets or sweatshirts with him, which he no longer needs. He advises against tying a jacket around your waist. That's extra weight, and you'll feel constricted.
Generally, the organisers set up containers and bins in which the old clothes can be disposed of. Usually the collected clothes are donated for a good cause.
If you don't have any old clothes to give away, the event will often give you plastic ponchos to use. "I always have such a poncho with me in my sports bag." We also recommend wearing a functional shirt so that you don't cool down. At owayo you will find running jerseys also warming softshell jackets.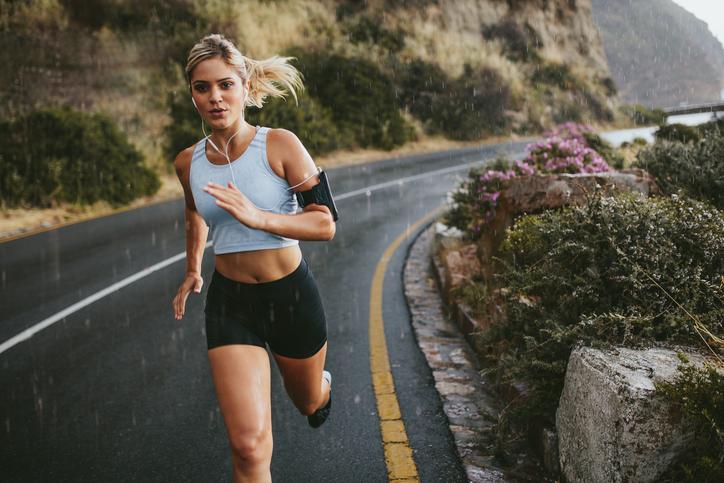 Heat
On a hot day you must "keep your body cool for as long as possible, for example by taking a cold shower." In addition: "Drink more and use every opportunity to cool down during the run, for example by pouring water cups offered at the edge of the track over your head."
You should also consider the following points to protect yourself from heat:

- Tight-fitting clothes warm the body. In hot weather, wear something loose fitting.

- Apply sun screen! Sure, if it is hot, you want to cover as little skin as possible with fabric. However, don't forget to apply sun protection.

- Specialized shops also offer running sun glasses. These are particularly light and do not slip.
The Head
The right headwear is important! On sunny days, we recommend a cap to protect against sunstroke. In the cold there's headgear made of functional fibers, but make sure you don't sweat too much under them: "Anyone who gets sweat in their eyes should wear something on their head to prohibit this from happening." owayo's bandanas protect your head from both heat and cold.
Speaking of sweat - what can happen if you wear the wrong clothes to a marathon, "Saffti" knows from experience: "I myself once wore the wrong clothes at a charity race from Hamburg to Rotterdam. Our sponsors gave us a running jacket and shirt and wanted us to wear them during the race. I put on both layers for the sake of the sponsors. We stood in the blazing sun on the podium for about an hour, because all the teams were celebrating together. I didn't sweat as much during the whole run as I did there."
What kind of shoes do I need for a marathon?
As important as the right clothing is the right footwear for a marathon. "The Juice" gives us the juicy details on what you have to consider when buying and which shoe is suitable for which terrain.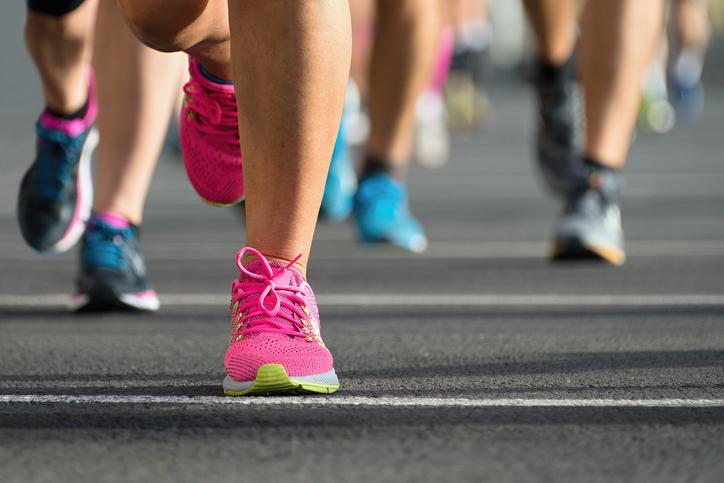 What you need to consider when buying
Finding the perfect shoe is not easy. Andreas Safft knows what to look out for: "First and foremost, you should place value on expert advice when buying. You should state what you need the shoes for and your running style. Do you run with your forefoot or heel? Do you need shoes for a sprint or a marathon?"
The right shoes for every surface
Also consider the surface you are running on, for example cross-country or asphalt. Trail shoes are available for difficult terrain. "Lighter shoes are better suited for speed and track training. Sturdier shoes are better for longer runs in an urban setting." Saffi's tip: "Running with different shoes depending on the groud reduces the risk of injury." In addition, you should always buy running shoes one to two sizes larger than street shoes: "The feet must have a good grip in the shoe, but must not squeeze anything."
When the day of the marathon arrives, you should put on your lightest shoes which don't cause pain when running long distances, advises Andreas Safft. Depending on the weight of the runner and the nature of the shoe and running style, running shoes last about 600 to 1000 kilometres. When the soul decreases noticeably, you should get new shoes.
By the way: What you wear in your shoe also determines whether you feel comfortable running: Too thick or cheap socks increase the risk of blisters!
Good luck in your next marathon!
We hope that we have been able to give you helpful tips for the right running clothes and wish the best in your next marathon. Do you know how to prepare for a marathon as a beginner? You can read up in our magazine.

Are you still looking for high-quality running clothes that you can design individually? We have a large selection of running clothes!

We would also like to thank Andreas Safft for his juicy hot takes!