Cycling in Winter
Tips for Safe Road and Mountainbike Cycling in Winter and Spring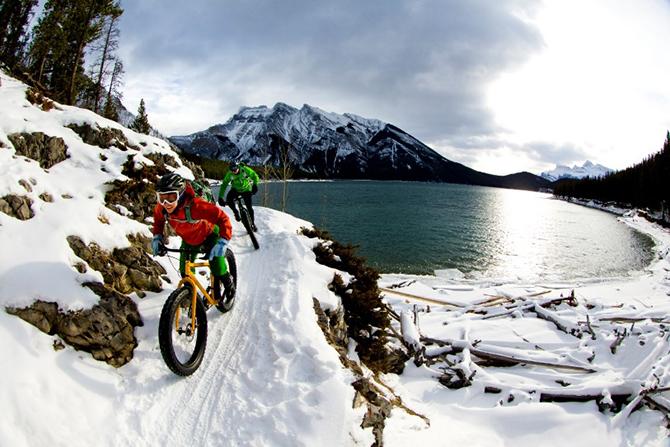 Cycling in snow and sub-zero temperatures? No problem! We will show you how you don't have to give up your favorite sport even in cold temperatures. To make sure it's still fun and that safety isn't compromised, we've put together the most important tips and information for you.
Road and mountain biking in winter: The most important things at a glance
With a little preparation and the right clothing, you and your mountain or road bike will get through the winter well. We have summarized the most important points for you at a glance:
Equipment for the road or MTB bike: winter/studded tyres, lights and mudguards
Storage of the bike: dry and not too cold
Care of the bike: clean from snow and salt and regularly oil the chain
Clothing: winter-proof and light
Nutrition: lukewarm drinks and snacks rich in carbohydrates
Road bike or MTB: How can I prepare my bike for winter?
Ice and snow can quickly make for subpar trail conditions, especially on roads that are open to the wind. That's why many bike enthusiasts switch to crossbikes or mountain bikes designed for "rough and slippery" surfaces in winter. The forest trail terrain slows speed down naturally, thereby reducing the risk of falling and cold head winds.
If you plan to ride regularly in the snow, you should get a fatbike. This newly developed off-road and expedition bike has extremely thick tires, which allows for easier off-road cycling.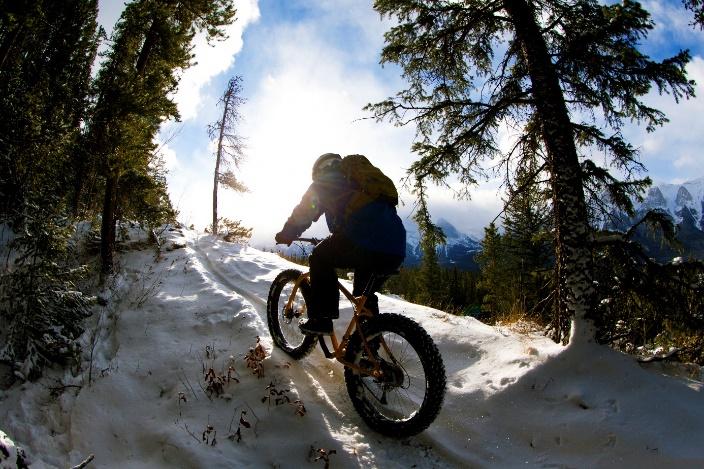 Winter and studded tires for your road bike
But even occasional cyclists who do not own a mountain bike or fatbike do not have to give up riding if the bike path has not been cleared of snow. Specialized bike shops offers winter and studded tires for such cases. After the modification, you can ride relatively safely even on ice and snow.
Tip:
Reduce the tire pressure. This ensures that the tires grip the road better. Information on the minimum tire pressure recommended by the manufacturer can usually be found on the sidewall of the tyre.
Lights
A properly installed light system ensures safety. Your road or MTB bike light should conform to the Road Traffic Licensing Regulation of your area, which usually consists of a front headlight with a white reflector, a rear light and a red reflector plus reflectors in the spokes and on the pedals. Please check what the regulations are in your area.
Also practical are helmet-integrated lights or headlamps, which are not always approved as official bicycle lights by Road Traffic Licensing Regulations, but can be especially helpful on badly lit paths. In road traffic, however, it's better if possible to do without headlamps, because you can dazzle other road users and you may have to pay a fine if stopped by the police.
Good to know:
In some areas bike lights with high and low beams are also permitted. This is particularly useful for cyclists and mountain bike riders who are on trails, as the high beams illuminate a larger area than normal bike lights when turning a corner, for example.
Mudguards for road and MTB bike
Road bikes and mudguards - they don't go together, do they? Aesthetically, a road bike mudguard may not look nice, but practically it makes sense, especially in winter because mudguards ensure that dirt, water and stones are not flung at the frame of your bike or at you/your clothes. Also snow and thus road salt, which affects the sensitive parts of the wheel, can be effectively be kept away from the frame. Mudguards are a sensible investment, especially in winter, since you can simply pin them to your road or mountain bike.
Mudguards for your road bike
Aerodynamic and lightweight - that's how a road bike should be. For this reason mudguards made out of carbon, plastic or aluminum are suitable. They can be attached, for example, with the help of Velcro or rubber. There are even very small versions that can be flexibly clamped to the saddle frame. When not in use, they can be conveniently folded under the saddle.
Mudguards for your mountain bike
Mudguards which do not get damaged even when covered in sticky mud are most suitable for a mountain bike. Some models have a scraper or a nose at the back, which is used to wipe the dirt off automatically, so that they do not fill up completely with mud. Another model are the Dirtboards. These plastic mudguards are wider and are attached to the saddle post of your MTB.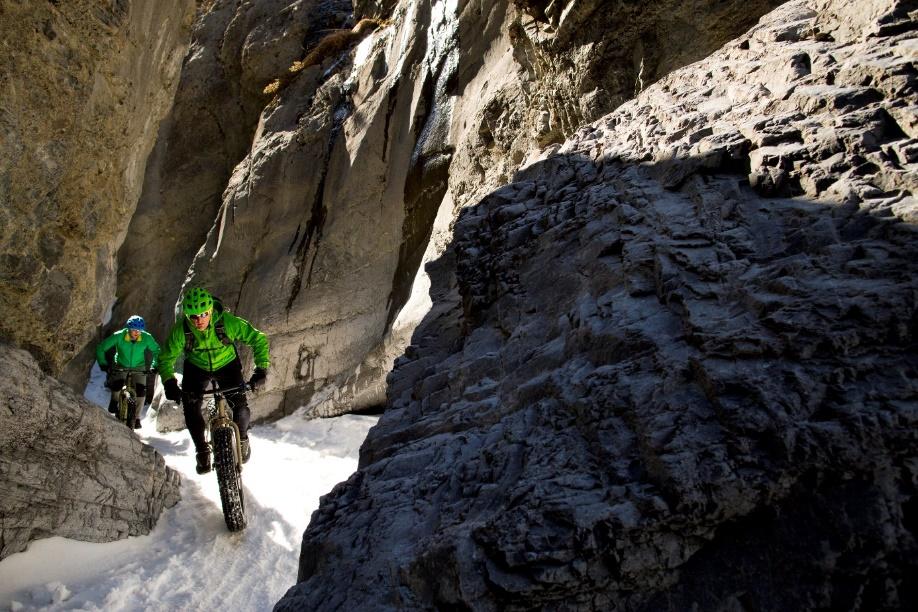 How do I care for and store my bike in winter?
Whether you park your road bike or mountain bike for a short time or store it for a longer period make sure that it is dry and not too cold. Sheds or cellars, for example, are a option as storage locations. You could also store your racing bike in your apartment for the winter and use it with a roller to continue training. If you want to hang your bike, then only mount wheels with disc brakes horizontally.
Note:
Do not store your bike next to your car in the garage, because in winter a car releases the salt which it has absorbed from water and snow while driving into the air and this can lead to the bike rusting.
In addition to proper storage, you should take good care of your road bike or mountain bike in winter:
Check brake pads and air pressure in tires regularly.
Clean and oil the chain.
Remove snow from your bike after each ride, as the salt it contains can cause rust.
After the winter season, it is important to give your bike a spring check and have all functions checked, ideally by a workshop.
What clothes should I wear when cycling in winter?
Accoridng to the saying, "There is no such thing as bad weather, there is only bad clothing", you should really consider what you wear when cycling in winter.
Tip:
If you get on your road bike in the dark in winter, it is best to wear light-colored cycling clothing or tops and also pants with reflectors on the parts of your body that are moving are important. This way you will be seen better by oncoming traffic.
The layer principle
Dress according to the layer principle and wear many thin layers on top of each other. You should avoid cotton here, because the fabric doesn't dry very well once it has been sweated through. And who likes to be out and about in the winter with wet clothes?
Cycling in winter: Softshell jackets keep you warm
If you're doing sports outdoors in the cold and snow, you should make sure you're wearing windproof and breathable clothing. The warm softshell jackets from owayo are perfect for biking in the snow. Reflectors on the sleeves make them extra safe!

Softshell Jacket CJS5 Pro in Salida design
Design your own softshell jacket now >>
Trousers, Gloves, etc.
You should avoid wearing long cycling bibs that are not windproofed. Instead combine them with a pants that has softshell properties and an additional pair of short bibs underneath or a particularly warm full-length winter bib to provide more wind protection.

Winter Bib Tights CPW5 Pro in Aero design
Design your own winter cycling bibs now>>
Softshell underpants worn over normal cycling shorts is an unconventional but effective solution. They are much cheaper than long softshell pants and should be bought one or two sizes larger so that you can use them as your final layer.
The same applies to gloves: They must also be windproof. Many cyclists even wear motorcycle gloves in winter for added protection. Mittens also provide better protection from the cold. However, mittens restrict the braking sensation, which is why three fingered gloves are also recommended. No matter which option you decide on, the gloves should be well lined.
Warm from head to toe
Insulating and warm insoles or shoe covers help prevent cold feet. Putting a hot pack under your socks can help keep them warm for up to 4 hours.