Shirt off? No way!
Why taking your shirt off in soccer is forbidden - background information and fun facts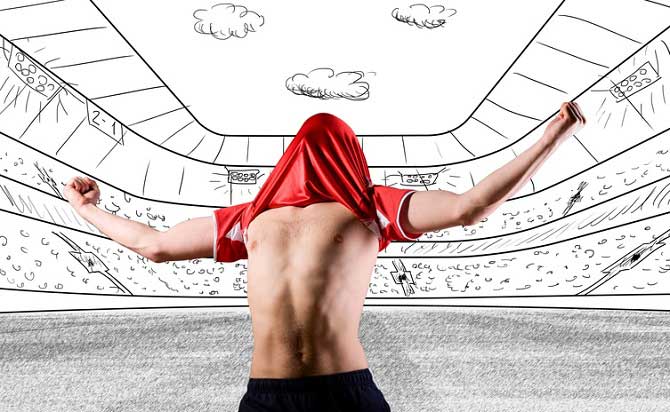 Whoever takes their shirt off in soccer gets a yellow card. So why do so many players do it? Why does this rule exist in the first place? Well, we found an answer for you by taking a close look at the FIFA rule.
Taking your shirt off is forbidden - a controversial FIFA regulation
Seven yellow cards for exaggerated goal celebrations - this rather questionable record in Europe's top leagues was set by Roberto Firmino in April 2017. After his winning goal against Stoke City, he took his jersey off again, as he had done six times before since the 2012/13 season. No problem? Actually, yes, because Firmino got yet another yellow card in addition to his record. Firmino is not the only player to show off his naked upper body after scoring a goal. But FIFA has forbidden the removal of jerseys since 2004. This rule is a constant source of discussion.
What do FIFA rules say?
Many players have their own way of celebrating a goal. Some players like Peter Crouch, a former English national player, perform a little dance, others form a heart with their hands. These gestures do not disturb the course of the game and are therefore allowed by FIFA: "Players may cheer for a goal as long as they don't exaggerate": Rule 12. The situation is different, however, with so-called exaggerated goal celebrations.
FIFA on goal celebration
Although a player is allowed to express his joy after a goal, the goal celebration must not be exaggerated.
Goal celebrations are permitted within reasonable limits. However, "choreographed" cheering scenes are to be prevented if too much time is wasted as a result. The referees are instructed to intervene in such cases.
According to rule 12, a player is cautioned if:
the referee thinks he is cheering with provocative, mocking or instigative gestures,
he climbs up a fence to celebrate a goal,
he takes off his shirt or pulls it over his head,
he covers his head or face with a mask or similar objects.
Leaving the pitch to celebrate a goal is not in itself an offence to be cautioned, but players must return to the pitch as quickly as possible.
The referees are expected to act preventively on the players in such situations and to use common sense when judging goal celebrations.
More concretely, this means that if a player takes off his jersey, he will be warned with a yellow card. Worst case scenario, he will be suspended for the next game if he commits another offence during the game which is being played. It is not unusual for the referees to be condemned for their decision by spectators and soccer teams. Ultimately, however, they only act on instructions and implement the international FIFA rules.
Why is taking off your jersey unsportsmanlike behaviour?
When in Rome... Well, this applies to soccer too. Since FIFA rules are internationally valid, they also take into account cultural differences in other countries. Therefore Volker Roth, former chairman of the DFB Referee Committee, introduced rule 12 with the following words: "In Islamic countries, taking off a jersey is an insult to the one who has to look."
In addition to the cultural differences between FIFA countries, other factors play a role too. Some players use the tradition of taking off their jerseys for their private purposes. Some jerseys even reveal a body with an advertising message or a personal greeting. Religious views were also demonstrated time to time. With a general prohibition to take off the jersey, one tries therefore to stop such messages. Thus, the match becomes the main focus again.
Zlatan Ibrahimovic draws attention to world hunger with his painted tattoos.
At the same time, the prohibition also prevents the game from being unnecessarily delayed by an exuberant cheering of a goal. When the game kicks off, players should concentrate on the match again and not be busy getting dressed properly. For example, soccerer Forlán (Manchester United) missed the kick-off and played topless against Southampton.
In an interview with SZ, Roth also stated that deaths had already occurred in South America, which also became a reason for the ban. After players had thrown their jerseys into the fan curve, there were riots. Spectators tried to grab the jerseys, panic arose and some spectators were crushed to death.
Is taking your shirt off forbidden in women's soccer too?
In the 2007 World Cup final against Brazil, the German national player Simone Laudher showed the spectators her six-pack and became famous with this gesture. But is taking off your jersey forbidden in women's soccer too?
In principle, the same soccer rules apply to both women and men. Women can be punished just like men for exaggerated goal celebrations. So, yes, taking off your jersey is forbidden in women's soccer too.
Here is why players love taking their shirts off when celebrating a goal
Although Ronaldo acknowledges that he doesn't do 3,000 sit-ups a day, he does train several times a week. He therefore likes to show off his well-trained upper body. David Beckham celebrated this body cult during his player career too: he played with his muscles and showed his tattoos.
Furthermore, soccerers naturally want to receive credit for the performance they have just achieved. The player "gave everything and has nothing to hide", as SZ quotes sports sociologist Karl-Heinrich Bette in its article "Adonis am Ball" (Adonis with the ball). Moreover, traditional male ideals still prevail in soccer. The exposure of the upper body is thus an expression of the masculinity that is to be recognized by the spectators.
Did you know? 10 fun facts about exaggerated goal celebrations
Taking off your jersey has long been part of the soccer game. So it's no wonder that there have been so many bizarre situations on the pitch. We have collected the best ones here for you.
1. A shirt under your shirt
David Odonkor, former Borussia Dortmund player, took off his jersey during the match against Hansa Rostock and gave it away to a wheelchair user. He even wore another identical jersey underneath the stripped jersey. He was still punished and received a yellow card.
2. Problems when putting your shirt on
How long does it take to put a jersey on? A player at the Confederations Cup in summer 2003 showed that it can take several minutes. After taking off his jersey to celebrate his goal, he only managed to put it on again with the help of his teammates. The sewn-in undershirt seemed to cause problems.
3. Commemoration of colleagues involved in accidents
Edinson Cavani also received a yellow card based on Rule 12. During his goal celebration, he showed a T-shirt with the text "ACE FUERZA". ACE is the abbreviation of the Colombian soccer team Chapecoense. 19 of their players were killed in a plane crash shortly before.
4. Oliver Bierhoff strips!
Oliver Bierhoff only took off his jersey once in his career. In the 1996 European Championship finals, he celebrated the Golden Goal.
5. Selfie celebration
Douglas Costa shows that it is possible to celebrate a goal in an excessive way without being punished for it. After his goal, he ran to the stands to take a selfie with family and friends. This is not (yet) forbidden. Will FIFA adapt its rules soon?
6. Women should not do without naked upper bodies
"No more yellow cards - just allow the voluntary showing of sporty upper bodies", it says in a 2004 official letter to DFB. The letter comes from politicians Evelin Schönhut-Keil and Margareta Wolf. They refer to the many female viewers and are strongly in favour of the abolition of the ban.
7. Why always me?
Originally it was only forbidden to take off the jersey if there was a message on the shirt underneath. Mario Balotelli, a former Manchester City striker, also shows the spectators what he is wearing underneath. Instead of cheering, he presented his undershirt with the inscription "Why always me?" at the game against Manchester United in October 2011. He became so well-known that there are now a few songs about it.
8. Sulley gives Balotelli a yellow card
Balotelli didn't take off his jersey just once. However, one scene remains particularly memorable: not the referee, but Balotelli's teammate Sulley Muntari showed Balotelli the yellow card. Sulley stole the yellow card from the referee and warned his teammate.
9. Missing fingers
Paulo Diogo, a former Servette FC Genève player, lost two fingers in a goal celebration against FC Schaffhausen. He jumped over the fence and got his fingers caught. However, the referee showed no mercy. Paulo Diogo received yellow for exaggerated goal jubilation.
10. Yellow-red?!
Hannover's Huszti received a yellow and immediately after a red card in 2012, when he took off his jersey and climbed onto the fence. Referee Aytekin was therefore heavily criticised after the match against Bremen and the discussion about whether rule 12 made sense or not flared up again.
Taking off your shirt in other sports
It's not just in soccer that it is forbidden to take off your jersey during the match. This rule also applies to athletics. Rule 143 of the IAAF contains the exact dress code: the starting number must always be visible. Mahiedine Mekhissi-Benabbad would have been best advised of this rule earlier. In 2014, his victory in the 3,000-meter obstacle course was subsequently denied him because he took off his jersey in the home straight.
Once the aim is reached, taking off your jersey is no problem. This is what discus-thrower Robert Harting used to do. After his victories, he liked to tear his jersey off his body. Although this almost became his trademark, today he decides not to do it for the sake of his grandmother Renate. Furthermore, he was already threatened with a lawsuit based on paragraph §90a of the German Penal Code . The tearing up of the jersey was considered a "defamation of the State and its symbols".
You can't take your shirt off - but you can exchange shirts
Even if it is forbidden to take off your jersey after a goal has been scored, it is allowed to exchange shirts at the end of a match. However, in 1998, exchanging jerseys was temporarily banned by FIFA. The removal and exchange of shirts is still an integral part of soccer culture and even a yellow card does not scare players off from removing their shirts during the match.
By the way: in our article The history of the jersey, you can find out how jerseys transformed into the way they are today. But you don't really want to take off the high-quality and beautiful jerseys of today anymore - especially if you have lovingly designed them yourself in our 3D Designer.
Photo credits: Title of picture: ©gettyimages/peterman