Proper Running Technique
A professional runner gives the latest tips and trick on how to improve your running technique.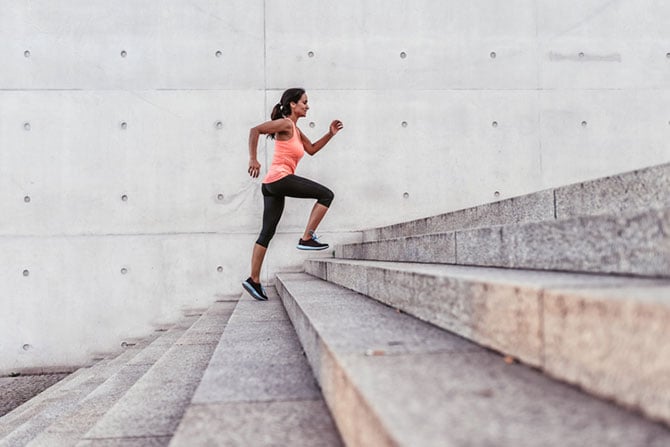 As with all other sports, running depends on the right technique. We talked to Pascal Dethlefs, a professional runner and running blogger. He answered the most important questions and explains what you should pay attention to while training.
The right running technique - a decisive advantage
Learn from Pascal Dethlefs why it is worthwhile to improve your running technique and how you can improve your running form.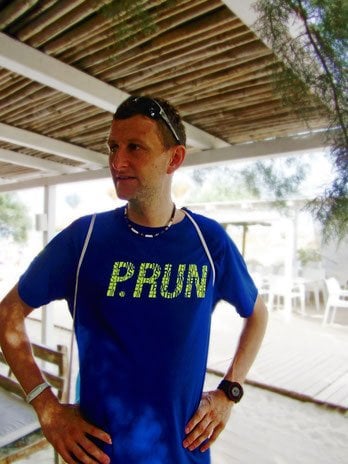 Pascal Dethlefs (born 1983) comes from Owschlag in Schleswig-Holstein and works in Hamburg. Despite his full-time job, he trains daily. In the beginning the passionate runner competed in runs of five or ten kilometres. His girlfriend Natalie finally convinced him to train for longer distances. With success - in 2016 the national champion set his current best time (1:06:52) at the half marathon in Berlin and finished 25th in the German best list. On his Blog he reports about his competitions, the training and gives nutrition tips.
Can running technique be improved upon?
There are two opinions regarding running form. Some say that every runner has his or her own running style, which cannot be changed nor improved upon. Others believe that, despite one's own style, the correct running form can be trained and aquired. Pascal Dethlefs also belongs to the latter: "An effective running technique makes you at least five to ten percent faster. Of course this doesn't happen overnight, but if you train everyday, you will begin to notice changes."
However, many claim that a change in running form is unnatural and can lead to injury. Pascal Dethlefs disagrees with this and explains that a bad running technique is more likely to lead to injury than vice versa: "A bad running technique is like eating fast food. It creeps in slowly and does not immediately affect your performance. But when the first problem starts to appear and you can no longer train regularly, you know you've made a mistake."
The Running Form Analysis
If you want to change your running form, you should not start at competition. Learning the correct running form is a process that starts with an analysis. Pascal Dethlefs recommends consulting an orthopaedist for expert advice. Many sports shops offer a running style analysis, but: "Running shops only want to sell shoes and usually do not have the training to provide customers with expert advice on running styles."
Running Technique in Competition
Pascal Dethlefs recommends that you choose less strenuous routes to train your running technique: "In competition, one kilometre before the finish line, I no longer think about whether to run forefoot or not. The body does it as long as possible. Then you roll over the heel because the load was too strong during the race. If, for example, you walk too far due to fatigue, you automatically take smaller steps and become slower." To prevent this, it is advisable to take a closer look at the various running techniques and when to use them.
Emil Zátopek, the Czech locomotive
Emil Zátopek is regarded as the running legend of the 20th century - despite his poor running technique. At the 1952 Olympics, Zátopek won three gold medals, including a marathon (which he ran for the first time in his life; winning all three medals within eight days). Zátopek's running style was generally laughed at, but eventually he was known as the "Czech locomotive": Although he ran clumsy, panting, stiff and arduous, Zátopek was quicker than all his opponents.
He is also famous for using interval training to prepare him for competitions.
Throughout the course of his career, Zátopek set eighteen world records. If you are curious, you can take a look at the worst and best running techniques of all time!
Running technique up close - what you need to know
Read about which running techniques make sense and help you reach your goals. Pascal Dethlefs also explains how to use your arms correctly when running or jogging.
- Forefoot Run:
Running on the balls of your feet allows you to run your fastest on a straight line. The runner is very dynamic with this running style. However, as the runner only rolls on the ball of the foot, the risk of injury is higher than with the other two running styles. It is therefore only suitable for short distances.

- Midfoot Run:
Rolling on the midfoot is considered to be a gentle but still fast running technique. The midfoot run is primarily used in a half marathon or marathon. The famous Ethiopian long-distance runner and multiple Olympic champion Haile Gebrselassie started his career as a track runner with the forefoot style. When he later switched to midfoot running for longer distances, he still broke all records.

- Heel Run:
Most hobby runners roll off their heels. This is probably due to the fact that they tend to run at a moderate pace. The heel run is not wrong. If you want to achieve a higher speed, however, you should switch to the middle or forefoot barrel.
Forefoot or Heel?
When it comes to running technique, many people ask themselves the question: forefoot, midfoot or heel run? However, there is no uniform answer to this question. Because the running technique should always adapt to the circumstances. For example, the midfoot run is best for a distance of ten kilometres, since the forefoot run can only be maintained up to a maximum distance of five kilometres. "And only with spikes!", says Pascal Dethlefs.
In his opinion, he advises transitioning out of a heel run: "However, personal weight should always be taken into account here. If someone starts running, you should change very slowly. If you are more experienced try running on your forefoot several times a day for one minute. This way you get your calves used to longer distances and higher loads."
Long or Short Steps?
Whether a runner takes long or short steps depends primarily on his height. "Apart from that, it makes sense to run up a mountain with short steps but higher frequency and downhill with bigger steps", the running blogger explains. If you want to incorporate more variation into your training, you can lift your knees uphill or do jumps. In general, according to Pascal Dethlefs, you should not change your running style completely.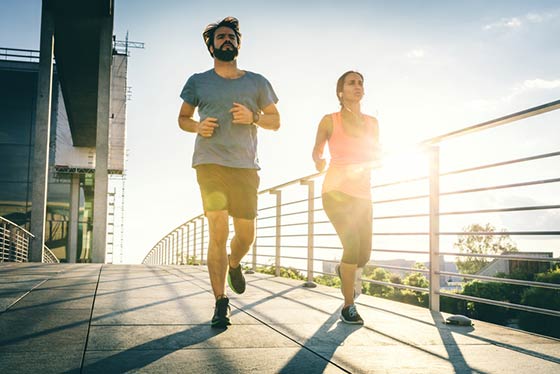 What to do with your arms?
Your feet and legs aren't the only things to consider. The arms also play an important role. When your arms swing while running, they contribute to your speed: "If you swing faster with your arms, you are also faster with your legs. It is best if the arms and legs cross in front of the body."

Learn more about the correct arm posture when running in the following video:
Furthermore, a stable torso is very important for runners: By stabilising your torso, runners can make bigger steps", explains Pascal Dethlefs. Therefore, stabilisation training can help runners optimize their running technique.
Running technology as a decisive performance factor - Haile Gebrselassie
The former Ethiopian long-distance runner Haile Gebrselassie is a very good example to illustrate the effects an improved running technique can have.
Gebrselassie used to walk 6 miles to school every day as a child both ways, so he was used to long distance races from an early age. At that time Gebrselassie led with the balls of his feet. This technique also made him famous at the age of 20: in 1993 he won his first of four consecutive World Championships. At that time his forefoot run was regarded as his key to success. However, this led to fatigue and injury. He eventually had to fight with an inflammation in his Achilles tendon. As a result, Gebrselassie changed his running technique around the year 2005: He no longer led with the balls of his foot; rather, he shifted his weight to the midfoot in the direction of the heel. Since Gebrselassie had changed his running technique, he has continued to set world records, without pain.
Drills to better your form
Form and arm positioning can be trained specifically to make running more ergonomic. Here you can find out which yoga exercises can help you.
Yoga Poses
In order to prevent muscle shortening, a combination of running and yoga exercises can be quite helpful. In order to actively train muscles, tendons and ligaments and thus prevent them from shortening, yoga is particularly helpful, as the exercises penetrate into the deep tissue. Pascal Dethlefs recommends the upward and downward dog. In addition, he often does the following Pilates exercise: "Lie down on the floor with your stomach and lift your arms and legs for ten seconds each." He repeats this exercise two or three times a day.
Here's how you do the downward dog:
Here's how you do the upward dog:
The running ABC - still up to date?
According to Pascal Dethlefs, the good old running ABC is also still a useful training for improving running coordination: "Knee lever barrels, heel work or foot joint work should be practised three to five times a week after running ."

You can find out here how the three essential exercises work:
It's the route that counts
In summary, the route and distance you want to run will dictate your running form. Whether you run with your forefoot or mid foot, this depends on whether your route is long or short. Even the heel running style is not wrong and especially suitable for beginners to slowly increase muscle strength.
We hope that we could give you helpful tips and tricks for the right running form and would like to thank Pascal Dethlefs for the informative interview.

Find out in our magazine what you should wear for your next marathon. In our online shop you will also find a large selection of running clothes.
Photos: Main Image: © iStock.com/golero, Image 1: © Pascal Dethlefs, Image 2: Wikimedia Commons/Emil Zátopek, Image 3: © iStock.com/Nikada, Image 4: Wikimedia Commons/Haile Gebrselassie