Profile
Lived
1985 – 2019

Country
Germany

Town
Bad Marienberg

Sport
Road Cycling, Fitness

Benedikt was a fighter, willing to take on the most difficult challenges with the utmost passion. He was born with cystic fibrosis and survived a double lung transplantation in 2010. Soon after, Bene was given the chance to get into cycling, quickly leading to self diagnosed cycling fever. Recovering slowly, he set himself the goal to complete the Prudentional RideLondon100 in 2012. After coming back from multiple setbacks, he finally completed the challenge, drawing a lot of his motivation out of his passion for cycling, which also gave him a positive attitude to fight through the medical treatments over the years to come. He knew he would get right back in the saddle, even if it meant starting from zero. His 'never give up' mentality and love for cycling was so very impressive, that we could not pass up nominating him as an owayo Ambassador.

Bene wanted to highlight the importance of organ donation and transplation, especially because it changed everything for him. It's a topic that receives too little recognition, leading him to initiate the 'Va Bene' feature on the blog cycling-claude. He provided real life insights from his battle against CF, to educate and show others how organ donation positively impacted his life and could mean the world to others.

Sadly, Bene passed away in April 2019. We are deeply touched by his passing and send our condolences to his family and friends.
Dear BENE, THANKS for being a part of the owayo AMBASSADOR FAMILY!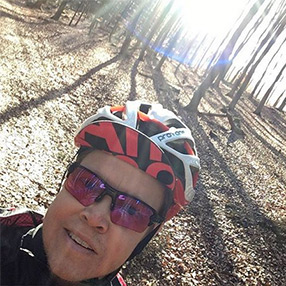 Bene loved coffee breaks as you can see below :-).